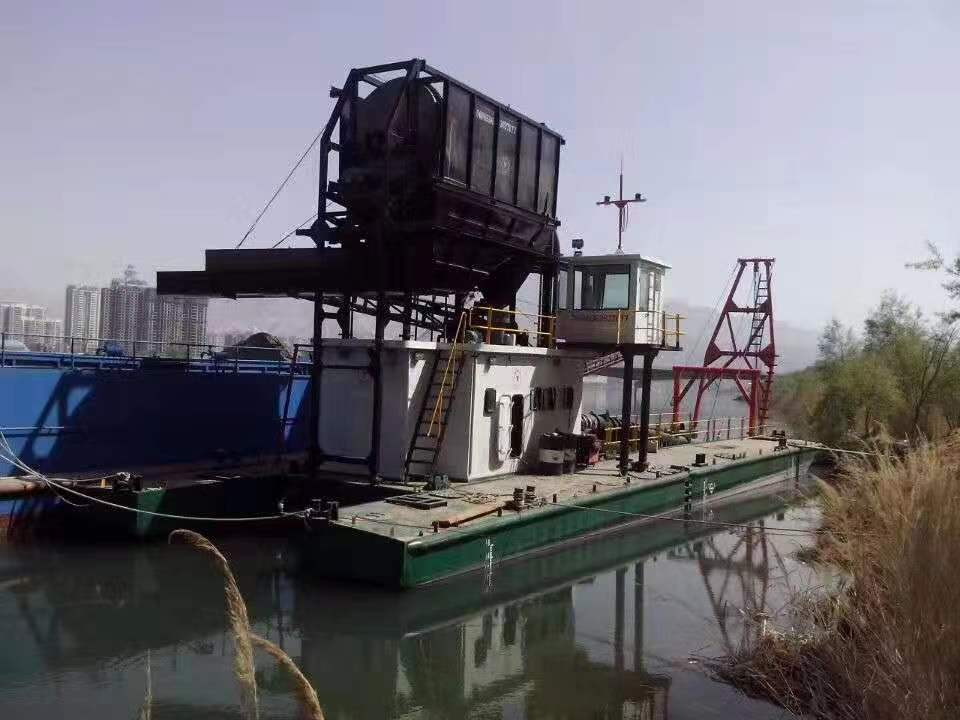 River Mining Machinery
Description: ◆General Description :◆Bucket Chain Gold Dredger, The hull adopts the assembled box structure Equipped with oper MORE&gt&gt
Hotline:
+ 86 - 15653445131
Product Details
Release date:2020-01-10 Views:times
◆General Description :
◆Bucket Chain Gold Dredger, The hull adopts the assembled box structure. Equipped with operating room, generator sets, digging devices, sand separation devices, the primary gold extraction device, vibrating selected device, tailings recovery, tailings delivery devices, lifting devices, positioning devices. Can be designed according to the working environment.
◆Main Function :
◆Bucket Chain Gold Dredger, the process is mixing sand, stone, mud material in the drum screen, separate stone and sand, then fine sand conveyed into chute to get extracted, then tailings flow through the chute.
River Mining Machinery
Model
HL-M60
HL-M80
HL-M100
Hull size (LxBxH)
24.0x4.5x1.0m
27.0x5.4x1.0m
30.0x4.8x1.0m
Dredging Depth
7m
12m
13m
Draught
0.6m
0.6m
0.8m
Max. capacity
60m³/h
80m³/h
100m³/h
Drum screen (LxDia.)
1.4mx1.2m
2.4mx1.4m
2.4mx1.4m
Drum screen power
5.5kw
5.5kw
5.5kw
Generator Brand*power
Weichai*75kw
Weichai*75kw
Weichai*75kw
Main motor
Dredging power
37kw
55kw
55kw
Lift motor
7.5kw
18kw
22kw
Drum screen motor
5.5kw
5.5kw
5.5kw
Injection pump power
7.5kw
11.5kw
11.5kw
Migration device x QTY.
4kwx3
4kwx3
5.5kwx2
Power units
Weichaix75kw
Weichaix75kw
Weichaix75kw
Chain bucket
Capacity
0.035m³
0.05m³
0.08m³
Chain bucket speed
32buckets/min
32buckets/min
32buckets/min
Quantity
86pcs
62pcs
62pcs
Chain
Size
600x100x30mm
600x100x30mm
800x100x35mm
Quantity
172pcs
124pcs
124pcs
River Mining Machinery
Model
HL-M120
HL-M150
Hull size (LxBxH)
35.0x7.6x1.2m
38.0x6.6x1.2m
Dredging Depth
15m
18m
Draught
0.8m
0.8m
Max. capacity
120m3/h
150m3/h
Drum screen (LxDia.)
2.4mx1.4m
2.6mx1.5m
Drum screen power
7.5kw
11kw
Generator Brand*power
Weichai*75kw
Weichai*75kw
Main motor
Dredging power
75kw
75kw
Lift motor
22kw
22kw
Drum screen motor
7.5kw
11kw
Injection pump power
15kw
15kw
Migration device x QTY.
7.5kwx3
7.5kwx3
Power units
Weichaix75kw
Weichaix75kw
Chain bucket
Capacity
0.08m3
0.08m3
Chain bucket speed
32buckets/min
32buckets/min
Quantity
86pcs
86pcs
Chain
Size
800x120x40mm
800x120x40mm
Quantity
172pcs
172pcs