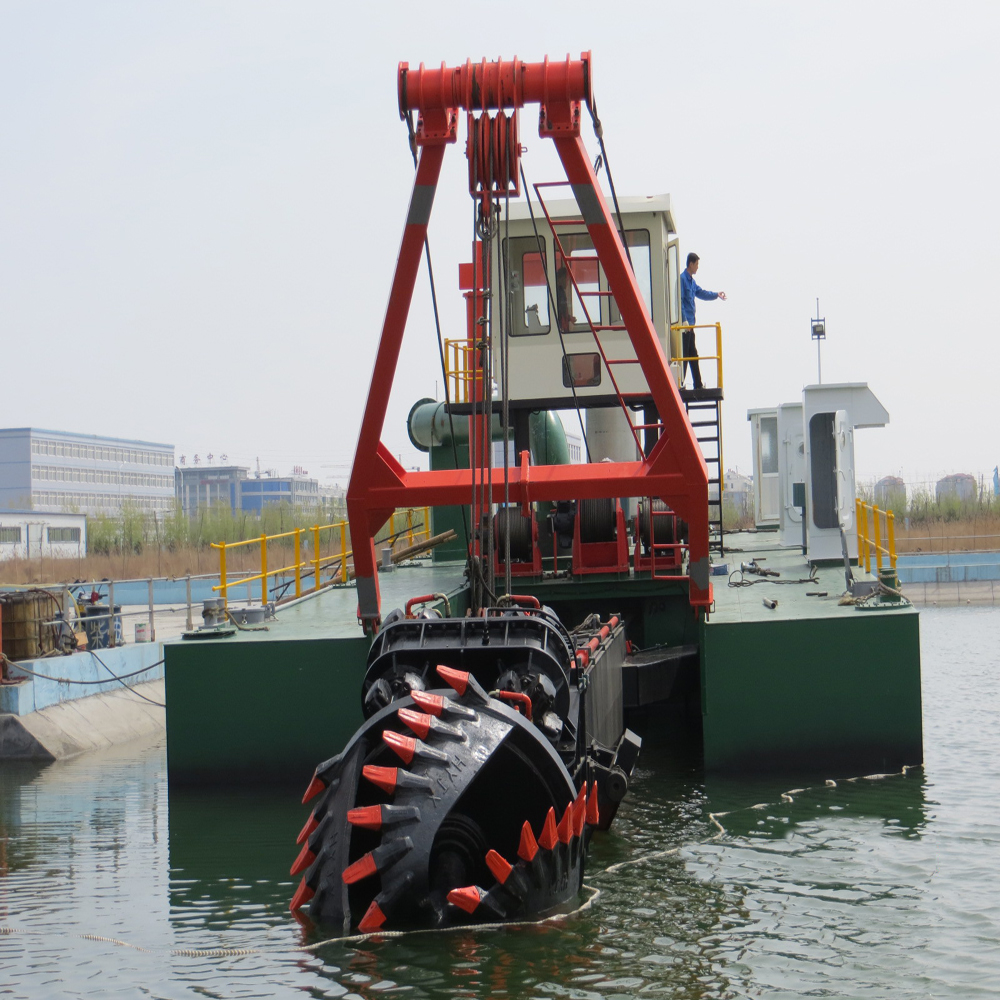 Cutter Suction Dredger-Dual Pump
Description: Except our standard cutter suction dredger, we also manufacture custom- made cutter suction dredgers for our clients MORE&gt&gt
Hotline:
+ 86 - 15653445131
Product Details
Release date:2020-01-10 Views:times
◆General descrlptlon :
◆Except our standard cutter suction dredger, we also manufacture custom- made cutter suction dredgers for our clients.The most remarkable characteristic with Dual-dredge pumps. Both of them are same model centrifugal pumps. The 1st pump is installed on the cutter ladder, the 2nd pump is installed inside the main pontoon. The sand mixture goes into the 1st pump from the suction pipe, then pumped into the 2nd pump by the middle pipe, and finally discharged to floating pipelines by 2nd pump.
◆Advantage :
◆The advantage is the dredging depth will be increased, and can improve working capacity. Improve the working efficiency, enabling customers to benefit expanded.

Cutter Suction Dredger--Dual Pump
Item
HJ300D
HJ400D
HJ500D
Dredger LOA
26.0m
42.0m
43.0m
Hull size(L x B x H)
19.0x7.0x2.0m
36.0x7.5x2.5m
38.0x9.1x2.5m
Main pontoon(L x B x H)
11.6x3.0x2.0m
13.8x3.5x2.5m
15.4x3.5x2.5m
Side pontoon (L x B x H)
16.0x2.0x2.0m
34.0x2.0x2.5m
36.0x2.8x2.5m
Structure
Can be dismantled and re-assembled easily, box structure, lower delivery cost
Main engine brand & power
Cummins/634kw
Cummins/634kw
Cummins/895kw
Auxlllary engine brand& power
一
Cummins/224kw
Cummins/447kw
Harbour generator
Cummins/20kw
Cummins/30kw
Cummins/40kw
Total power
654kw
888kw
1382kw
Diameter discharge pipe
300mm
400mm
500mm
Max. dredging depth
16m
22m
25m3/h
Water flow
2000m3/h
2500m3/h
4000m3/h
Solid sand capacity
500m3/h
625m3/h
1000m3/h
Discharge distance
1500m
1500m
2000m
draught
1.4m
1.7m
1.7m
Hydraulic winch
130/50KN
160/80KN
160/100KN
Hydraulic cutter power
50KW
80KW
170KW
Diameter cutter head
1450mm
1500mm
1700mm
Diameter spud cylinder
100mm
160mm
160mm
Spud diameter and length
Φ325mmX23m
Φ457mmX31m
Φ510mmX35m
Total fuel oil consumption
95l/h
129l/h
201l/h