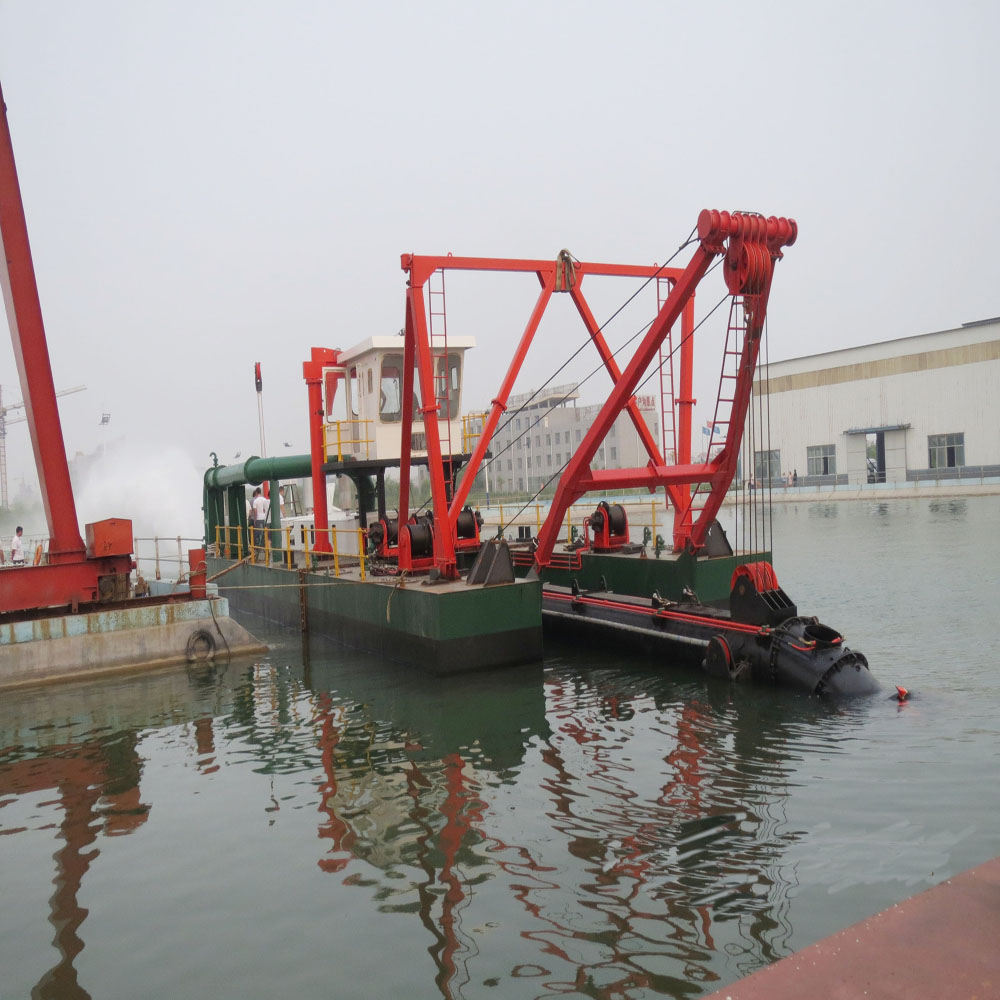 HJ650 Cutter Suction Dredger
Description: Cutter Suction Dredger is self-propelled or non self-propelled, portable cutter suction dredger Hull can be dismantled and re-assemble easily with box structure MORE&gt&gt
Hotline:
+ 86 - 15653445131
Product Details
Release date:2020-01-10 Views:times
HJ650 Cutter Suction Dredger
◆General Description
◆Cutter Suction Dredger is self-propelled or non self-propelled, portable cutter suction dredger. Hull can be dismantled and re-assemble easily with box structure . equipped with horizontal shifting devices, cuter ladder lifting devices, spud devices, deck crane and so on. Widely used in sand-excavating, river dredging, desilting, reclamation for channels and land, port construction, etc.
◆Advantage
◆Reliable and Efficient
The key component like engine, pump and hydraulic system are adopted the international brand.
◆Tested in pool before delivery Quality testing for each dredger before delivery to ensure all function working properly.
◆Services - experienced engineers to guide installing and training local workers. 247 technical support standby. Free spare parts in the first year, low cost for services.
◆Dismantled and easy transport
HJ650 (26 inch 6000m3/h)
Dredger LOA
43.0m
Hull size(L x B x H)
38.0x9.8x3.6m
Main pontoon(L x B x H)
18.2x3.8*3.6m
Side pontoon (L x B x H)
29.0x3.0x3.6m
Structure
Can be dismantled and re-assembled easily, box structure, lower delivery cost
Main engine brand & power
Cummins/1720kw
Auxlllary engine brand& power
Cummins/456kw
Harbour generator
Cummins/75kw
Total power
2251kw
Dredging pump
Warman Technology
Discharge pipe inner Dia.
650mm
Head
63m
Max. dredging depth
16m
Water flow
6000m3/h
Solid sand capacity
1200m3/h
Discharge distance
2000m
Cutter head Dia
2100mm
Cutter power
350kw
Draught
2.0m
Displacement
725T
Hydraulic control system
PLC Slemens
Wire rope pulling force (Lifting winch)* Quantity
180KN *1
Wine rope pulling force (Traversing winch)*Quantity
120KN *2
Operation room
Adjustable chair, movable side-window, air condition, PLC system,signal lights and floodlights
Total weight
280T
Total fuel oil consumption
326L/H